Traveling to Palestine was a new experience for us from many perspectives. It was a trip of amazement, of appreciation, of encouragement, of mixed feelings, of compassion, of quilt sometimes, of feeling overwhelmed, of everything a trip and a new place should make us feel so that in the end once you left there you felt you had earned something for your growth and your soul.
All this happened in only two days, that's the time we had to explore Palestine, trying to see some of its most important places and to understand its way of being. We were lucky to have chosen Michael Jackaman to be our guide who was exactly what we were looking for. Young, open-minded, very well aware of the political and social situation of the country, in love with nature and simple things,  and able to understand exactly what we were looking for.
Palestine has a long and complicated recent story, but I prefer not to go into too many details. Just to keep it short, the Palestinian territories are in fact under Israeli military occupation, which means that there are some restrictions for the Palestinian population.
Still, the country struggles to develop, to fight for human rights, all sorts of international organizations come in and help and sometimes there are good results. Of course, it's a hard work that has to be done, but we had the chance to meet people who were optimistic and willing to do what's needed to get Palestine on the right direction.
First steps into Palestine
We got to Palestine from the Checkpoint 300, going from Israel. The checkpoint is in the shape of labyrinth of high concrete walls and metal gates. We were a bit insecure of all the procedures and we didn't know what to expect. Still everything went smooth, there's no passport control (there's a control when you come back from Palestine to Israel), you just pass some gates and here you are, in another country.
When we exit the checkpoint, the first thing that struck us was the garbage and the taxi drivers looking for clients. There were lots of taxi drivers offering their services and if you are not prepared, this can be a bit intimidating. We just smiled and walked around them and waited for Michael. After a few moments, he picked us up with his car and started our West Bank journey.
First stop – Hebron
We spent a few hours in Hebron, wondering on the streets of the old town, bustling with small shops, with sellers inviting you in for a cup of tea. We got there during one of the Muslim celebrations, so there was quite a bit of a hustle in the city, but we ran away from it.
Michael got us in touch with a local guide, Nawal, who walked us around the town and explained a bit about what's going on, what has happened in the last years, how the conflict between Israel and Palestine has affected the day by day life of the people living in Hebron.
It's not an easy life, they lack access to education, proper healthcare and sometimes even running water, but they see this as a normality and they live with it. They try not to blame it on the Israeli soldiers who are patrolling the city, they sometimes make friends and learn each others language.
Still, a high percentage of Palestinians are highly educated even with the political situation but it's not easy to reach that. Due to the political situation, students get interrupted and many days they cannot attend school due to road closing or military restrictions.
Nawal is an extraordinary woman, who has traveled a bit the world and with which it was a true delight to have a conversation. She's also running  a small shop inside the old town, where she sells mostly jewellery and traditional costumes made by a small community of women in Hebron (Women in Hebron).
Women in Hebron is a co-op, a Palestinian non-profit fair trade co-operative established by women in the Hebron district. They can provide for themselves and their families through the production and sales of beautiful hand-crafted items. Their work is based on the idea that developing Palestinian handcrafts is more than just an income-generating project. It is in itself an act of community strengthening. A way of honoring the role of women in their society and a means to show a sort of resistance in the face of the occupation of Palestine and the harm it has done to the people of Hebron.
While in Hebron, Michael took us to a traditional glass and pottery factory. Something I like about a place I visit, is to see that the traditional crafts are still being preserved and produced even today.
So seeing live how glasses are made was a delight. Not to mention the hand painting with all the traditional Palestinian symbols.
Michael has been guiding for some years now, but he said that we were the first to actually ask in advance to go to Battir. Battir is a village just outside Bethlehem which was included on the UNESCO World Heritage Site List in 2014. I will tell you in a different blog post about this place, how it got on the UNESCO list and how the people here managed to change mentalities.
Saint George Monastery
A big part of the tourism done in Palestine is, like the case of Israel, a religious one. The Palestinian territories have a big religious history and the country bustles with old churches. For us, as we mentioned to Michael from the beginning, this was not our trip's purpose, but still going to this monastery was a nice surprise.
Leaving aside the religious aspects, The Saint George Monastery, founded in the 5th century, is in a deep and narrow gorge called Wadi Qelt, in a cliff face pocked with caves and recesses that have offered habitation to monks and hermits for many centuries.
The surroundings fascinated us immediately, the landscape was spectacular. We even enjoyed going all the way down to check out the monastery and going all the way up on foot. It's just 10 minutes going down and maybe 15-20 minutes the other way around.
In the parking lot at the main road, there were some young Palestinians selling pomegranate juice and renting donkeys for the trip to the monastery. It was really funny for us, because these men were asking us in Romanian if we want a juice or a donkey. At that point we realized that this place is very appreciated by Romanian religious tourists and these men learned to communicate with them. It was really funny to hear them speak Romanian in Palestine, in the middle of the desert. It wasn't so funny, when after a few moments 2 buses full of Romanians and their priests arrived 🙂
Jericho and the Hisham's Palace
Built somewhere in the 8th century, Hisham's Palace served as a winter residence for one of the Umayyad Caliphs. The residence was actually never finished and in 749 an earthquake severely damaged what was built until then.
The Palace remained a ruin ever since and now the remainings are visible on site. At the entrance, a reconstructed figure of a six pointed-star stands still. The star was once located over the entrance to Hisham's Palace.
The site contains royal buildings, a mosque, water fountains and baths, and spectacular mosaic floors, that are still kept intact and that show beautiful drawings, with an obsessive attention to details.
Jericho is considered to be the oldest city in the world and the longest continuously inhabited city. Rich springs in and around the city have attracted human habitation for 11 thousand years (9000 BC). Jericho is described in the Hebrew Bible as the "City of Palm Trees".
Jericho is located 258 meters below sea level, which makes it the lowest city in the world. Jericho is one of the main attractions of Palestine, but for us, we only spent a few hours there; visited the Palace and had a look at the Mount of Temptation.
A Tour in Bethlehem
Bethlehem is the epicenter of Christianity together with its Nativity church – where Jesus is supposed to have been born and with other places that have a biblical resonance. Besides that, Bethlehem is a city that is trying to revive. We had a nice walk on the streets of the old city in Bethlehem and enjoyed a sunset from up above a building.
The Nativity Church was built over the cave where presumably Baby Jesus was born, which makes it one of the most important religious places for Christians all over the world. This is why a lot of Christians (from all cults) come to this place and you will get to see as many people as maybe in Vatican. The building of the Nativity Church was finalized in 339, but it was destroyed in a fire and a new one was built in 530 AD, keeping the original architectural tone.
The Church is designed like a typical Roman basilica, with five aisles (formed by Corinthian columns) and an apse in the eastern end, where the sanctuary is. The church features golden mosaics covering the side walls, which are now largely decayed. You can enter the basilica through a very low door, called the "Door of Humility." The original Roman style floor has since been covered over, but there is a trap door in the modern floor which opens up to reveal a portion of the original mosaic pavement from the first basilica.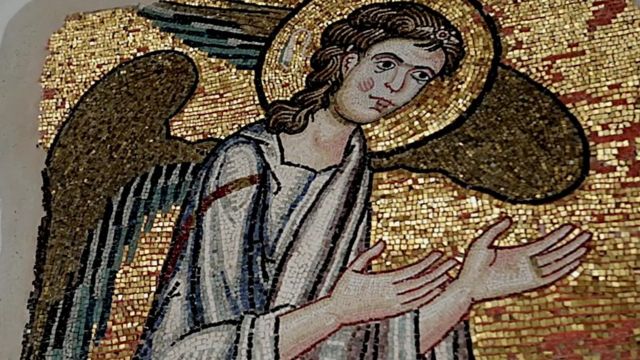 The Shephard's Field Chapel is the place where, according to Catholic tradition, the angels first announced the birth of Christ. In the same area, there are caves where it is said that shepherds used to live 2000 years ago. It's also a nice walk and you have a nice view over Bethlehem.
What interested us the most was the Banksy movement so we drove around the city in search of the famous street art that has become a worldwide cry for peace and humanity.
At the end of the day, we also checked out the Banksy Walled Off Hotel which has a very cool recent history museum on the conflict between Israel and Palestine.
Although we had a very detailed history lesson being with Michael for the last 2 days, going to the Hotel was a good summary of what we had learned during the trip.
Restaurants we checked out in Bethlehem:
The Tent – we went here for dinner, it's a proper traditional Middle East restaurant. The culinary experience we had here was one of the best during the whole trip. From skewers and kebabs, to salads from all sorts of vegetables, to delicious hummus, combined with a local Palestinian beer and wine, everything was delicious, beyond any expectation.
Afteem – this is a very nice family restaurant, one of the oldest in the city and were you can find the most delicious falafel. They have some secret spices that give the chickpeas balls a special taste. All the other dishes were equally good, so a must try if you're in the city center.
This was our short trip in Palestine. Going to see countries that have a troubled social and political situation is always a torment for our minds and soul as well. But I guess that sometimes all we can do is just be informed, understand the situation and become more tolerant.
Our guide: Michael Private Tours – Facebook and Website
Accommodation – we stayed at  Sabrina Apartments – a 3 bedroom apartment which looks very good, but it doesn't have any heating, besides an air conditioner (having no heating system is the house seems to be a common thing in Palestine and Israel). So, it was quite a cold night in the apartment, but the blankets were warm enough. And we had beer and wine from the house, which was a nice surprise before going to sleep.
Photo Gallery:
Bethlehem
Hebron
Jericho and The Hisham Palace
Saint George's Monastery