Modern sounds for the 21st century featuring modal, progressive and esoteric contemporary jazz. The 13th volume of the Spiritual Jazz series turns our attention to what's happening NOW.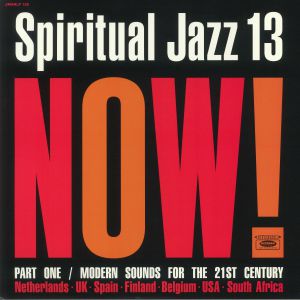 Over the course of 24 tracks and spanning 2 x 2LPs, Jazzman presents an overview of the contemporary exponents of Spiritual Jazz; musicians who are intent on bringing something personal to the table, as much as they recognize the importance of those who have paved the way for them.
This is music recorded within the past 20 years and from 15 different countries, including modern classics from veterans Steve Reid and Idris Ackamoor, providing a vital link between the past masters and the enlightened new generation. It's pioneers such as John Coltrane, Sun Ra, Pharoah Sanders et al, with their innovations in reaching another plane of consciousness that was and remains uppermost in the minds of exponents of Spiritual Jazz.
Fittingly, several of the artists featured on this compilation, such as Cat Toren and David Boykin, are practitioners of the art of music therapy and sound healing, and have absolute conviction in the role of song as solace.
The pioneers may no longer be with us, but their saintly selves loom large, shining a light in the darkness, inspiring many a brave new disciple today, as this album will testify: the new wave of jazz is gathering pace and still sounds fresh, vibrant and as relevant as ever.
Tags
benjamin herman
,
black flower
,
carla marciano
,
cat toren
,
chip wickham
,
compilation
,
david boykin
,
idris ackamoor
,
jamie saft
,
jazz
,
jazzman records
,
jimi tenor
,
jonas kullhammar
,
kabukabu
,
nat birchall
,
outernational
,
shabaka
,
spiritual jazz
,
steve reid
,
teemu akerblom
,
the cosmic range
,
the pyramids
,
vibration black finger