The Africa Seven label might not have been around for very long, but the London-Paris dynasty has certainly established itself as a no.1 outlet for rare, unhinged world music.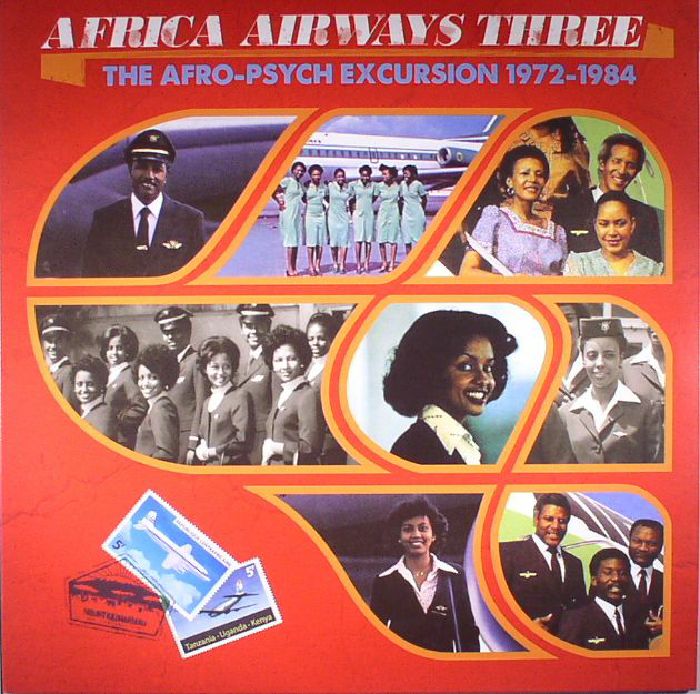 This is Africa Airways Volume 3: The Afro-Psych Excursion, a gorgeous compilation spanning the years 1972 to 1984, and it clearly offers some of the most magnetic tunes that they label has put out thus far.
There isn't a mediocre song in here and, as the saying goes, it's all-killer-no-filler. Opening up proceedings are Afro National from Sierra Leone. Their progressive psyche-highlife foot-stomper setting down a marker for things to come.
Next it is Ifang Bondi who serves up a swirling concoction of powering afro rhythms, fuzz guitar, magic flute, fuzz organ, all underpinned with a driving powerful driving bass line. Next stop is Mali where Sory Bamba serves up the highlight from his 1979 album "Kanaga 78". An early use of psychedelic synthesizer paired cleverly with pulsating bass guitar and harsh choppy guitar.
We step forward in time a few years for the distorted guitar chords and over-stacked beats of "Nzango" by African Black. Bunzu Soundz from Ghana close side A with their choppy, percussive, "Zinabu".
Messi Jacques & Les Dissoumbas De Libreville open up side B with "Onga Ben Ma Na Mene Mebua", prepare for an onslaught of psych organ, crazed drumming and eeechho vocals to the max. Decca West Africa, Nigerian favorites Ofo and The Black Company grind out the psych factor next with their conga driven fuzz fest "Allah Wakbarr".
The Damas Swing Orchestra slow proceedings down with their afro left-field swing micro epic "Odylife". We take a brief detour via Indonesia for the AKA and their dance floor mover "Shake Me". It's a track of two halves. Psychedelic throughout but in the second half things swing fast and funky.
We close down with the master Manu Dibango. Proving he can turn his hand to just about any genre of music, the Cameroonian legend delivers his pensive, xylo-driven, riff locked, soundtrack epic "Ceddo" to close out our journey.